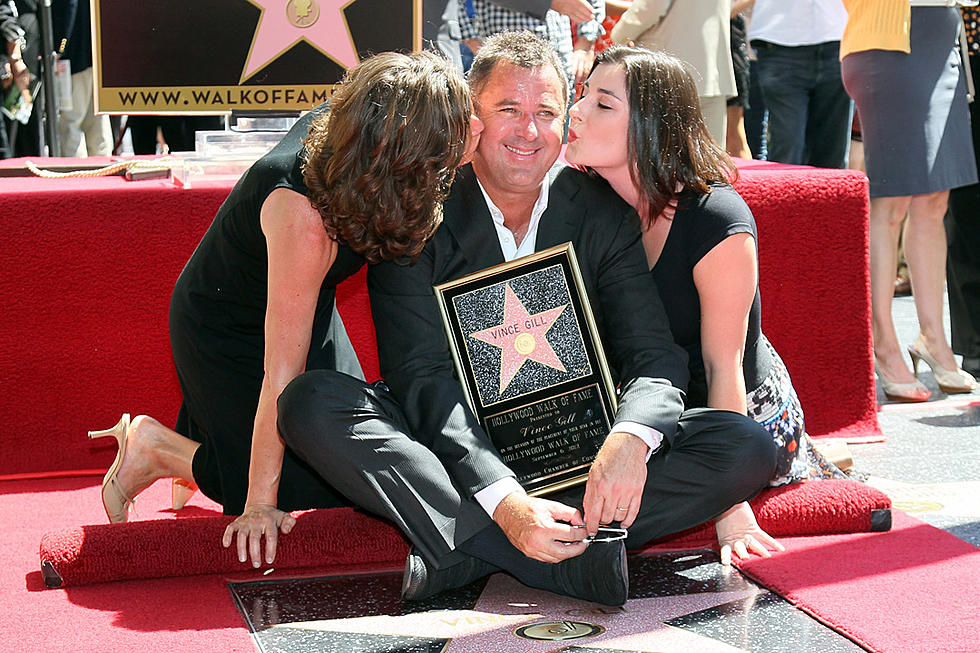 Remember When Vince Gill Earned a Star on the Hollywood Walk of Fame?
David Livingston, Getty Images
Vince Gill has earned an armload of accolades over the course of his decades-long career, but his star on the Hollywood Walk of Fame is surely one of the biggest ones. The country icon was on hand in Los Angeles to receive the honor on Sept. 6, 2012, accompanied by his wife, Amy Grant, and his daughter, Jenny.
The Oklahoma native played in several bands in his home state early on before moving to Los Angeles, where he became the lead singer of Pure Prairie League in 1979. He scored his first hit, "Let Me Love You Tonight," in 1980 as a member of that band, and went on to play in Rodney Crowell's Cherry Bombs before ultimately moving to Nashville, where he launched one of the most successful country careers in history.
"I loved my years in southern California," Gill reflected during the ceremony to unveil his star, calling that time "probably the most important years I ever spent" because of the practical education he received.
Why Vince Gill's Eagles Experience Is Bittersweet
"I started seeing and hearing the greatest musicians I ever heard in my life, and they inspired me to be better," Gill said. "One friendship led to another friendship, and one collaboration to another collaboration, and I've been lucky enough to build a career out of just being willing to have a conversation and be musical."
Gill signed a deal with RCA in Nashville, releasing his first full-length country solo album, The Things That Matter, in 1985. He scored his breakthrough with When I Call Your Name in 1989, kicking off a run of hits that would place him among the most-awarded artists in the ACM, CMA and Grammy Awards. Gill is a member of both the Grand Ole Opry and the Country Music Hall of Fame, but in his speech at the Hollywood Walk of Fame, he professed surprise at his own success.
"I remember a 19-year-old kid walking these streets and looking at these stars," he shared. "The truth is, it never even entered my mind that that would ever be a possibility, so I think that's probably pretty healthy."
See 7 Unforgettable Vince Gill Moments
Is Vince Gill Country Music's Best Guitarist? These Pickers May Disagree: