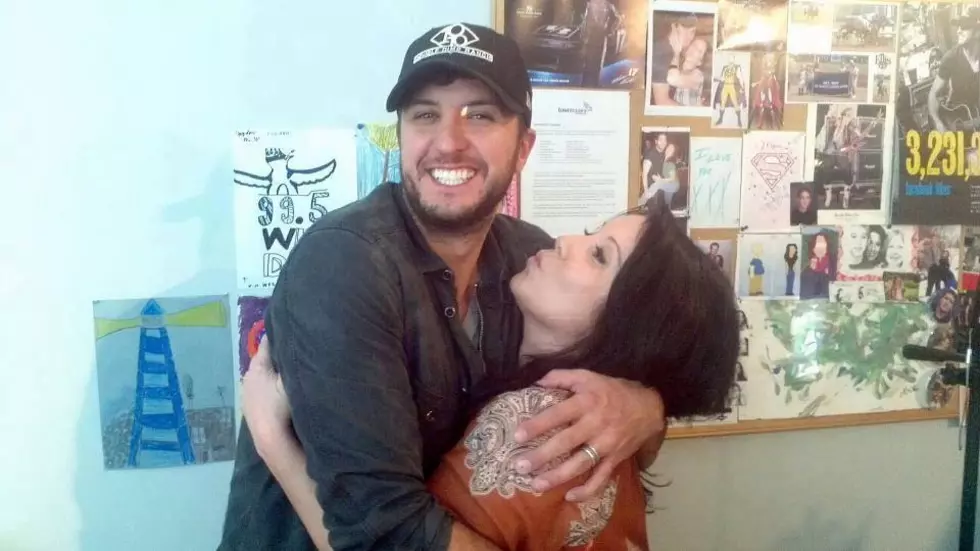 Luke Bryan Finally Learned To Wear Cologne and Leslie Remembers When He Didn't Have a Clue
Luke Bryan and Leslie Morgan/WKDQ Studio
Back in 2013, Luke Bryan began his first ever headlining tour at the Ford Center, right here in Evansville. Before the concert, Luke came by the WKDQ studios to talk to me about his nerves, the stresses that go into being the boss of a tour and his role models.
He had had laryngitis for two weeks prior to opening night and was on total voice rest.  Because of that, I had the privilege of being his one and only interview leading up to his very first opening night, as a headliner, ever. Take a look at the LBT episode that featured the Ford Center, the WKDQ studio and my voice.
What you can't tell from the video is that Luke didn't smell very good. I know It's hard to believe, but he didn't. He ever thought he smelled bad. The first thing he said to me when he came in to the WKDQ studio was, Do I smell bad? Well, I hadn't really had time to tell at that point, so I leaned in and took a big whiff.
Yes, he was right, he DID smell bad. It wasn't disgusting like my son's gym bag. It was a sweat mixed with God awful body spray smell. So, I told him he truth, Yes, you smell bad. He then turned around to his tour manager, a tiny little woman with a sugar glider, and told her she should have let him take a shower.
He had been rehearsing all day and had really worked up a sweat. While he was rushing over to talk to me (then we were only a block away from the Ford Center), she had chased after him and doused him in generic body spray.
We all laughed, it broke the ice a little and he gave me a big squeeze. It wasn't our first squeeze. Look in the right hand, top corner, right above my head in the pic below, you can see our first squeeze when he performed at Woody's during out Cheap Seats Concert Series. 
Luke is so much fun and always a good sport. I'm so thankful  Keith Urban finally taught him how to wear good cologne.
Enter your number to get our free mobile app
KEEP LOOKING: See Inside Jason Aldean's Spectacular Beach House Mansion: