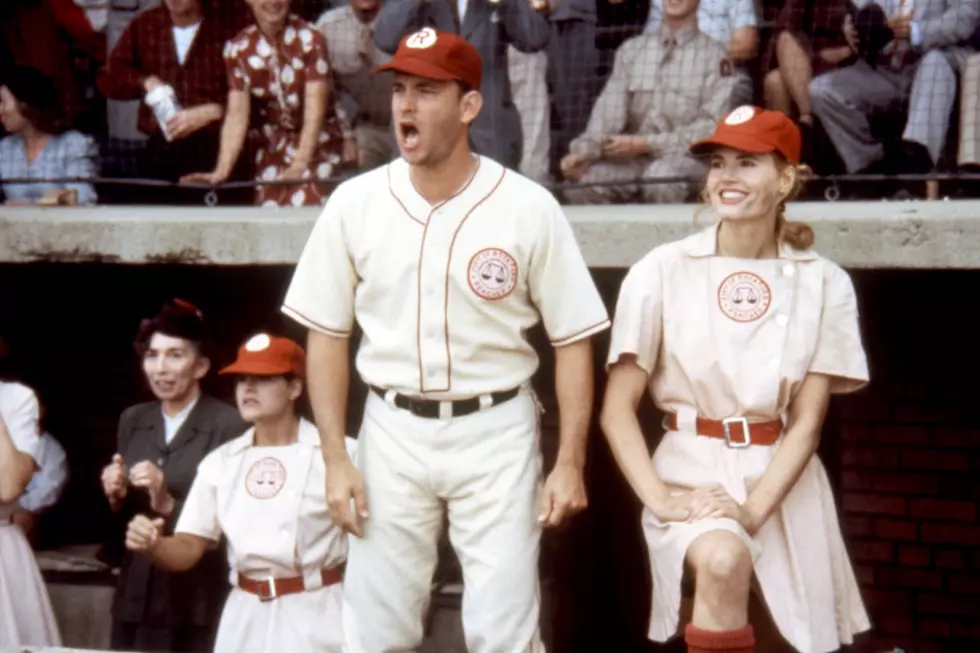 'League of Their Own' TV Series Photos Brings Back Memories of Indiana Film Shoot
Columbia
It was the summer of 1991 and for several weeks Evansville became a temporary home to some of Hollywood's biggest stars. Tom Hanks, Geena Davis, Madonna, Rosie O'Donnell, and Lori Petty all took up temporary residence in and around the city as filming for the 1992 movie, A League of Their Own took place at Bosse Field on Evansville's north side and League Stadium in Huntingburg. The city made such an impression on Hanks and his family, he ranked filming the movie as his favorite during an interview on The Bill Simmons podcast last November.
Hundreds of residents, including Liberty from the My Morning Show on our sister station, MY 105.3, and a few of my Mater Dei classmates made their way to Bosse Field over that summer to be transformed into 1940s-era fans to fill the stands as extras during the shoot. Fast-forward over 30 years later and reminders of the movie still hang at Bosse Field. The most prominent being the large Racine Bells logo painted on the wall inside the ballpark.
A League of Their Own TV Series Coming to Amazon Prime Video
When I first found out about the new series, all those memories from that summer came rushing back as our hometown will forever be a part of Hollywood movie history. The new series wasn't filmed here, most of it was shot in western Pennsylvania last summer, and none of the characters from the movie will be a part of it, BUT one of the film's stars will be as Rosie O'Donnell is listed as a member of the cast on the show's IMDB profile. However, she won't be reprising her role of Doris from the film. Instead, she'll play a character by the name of Vi. With that said, it does take its inspiration from the film. When the series was first announced as "in development" back in February 2020, The Hollywood Reporter, uh, reported, that Amazon described the show as a "fresh approach" to the 1992 movie along with a short synopsis of what the show is about.
The project...follows brand-new characters and begins with the formation of the league in 1943 and follows the league and its players as they fight to keep it alive through close games, injuries, sexual awakenings, and road trips across a rapidly changing U.S.
The eight-episode comedy series will feature one-hour episodes and will star Nick Offerman, best known for his role as Ron Swanson on Parks & Recreation as Rockford Peaches coach/manager, Casey Porter. The series also stars Abbi Jacobson from Comedy's Central's Broad City, and D'Arcy Carden who played Janet on NBC's The Good Place and Natalie on HBO's Barry.
A League of Their Own TV Series Releases Character Photos
While no official release date has been announced by Prime Video, my guess is it's getting close as the show's official Instagram account, @leagueonprime, released a series of photos of the actors portraying their characters. Take a look.
Nick Offerman as Casey "Dove" Porter
Abbi Jacobson as Carson Shaw
D'Arcy Carden as Greta
Melanie Field as Jo Deluca
Gbemisola Ikumelo as Clance Morgan
Chanté Adams as Maxine 'Max' Chapman
I'll be curious to see if there are any easter eggs in the series that reference characters or moments from the movie. I'll guess we'll just have to watch and find out.
[Sources: IMDB / The Hollywood Reporter / League on Prime on Instagram]
LOOK: TV Locations in Every State
CHECK IT OUT: The Best Movie Character Names of the 1980s