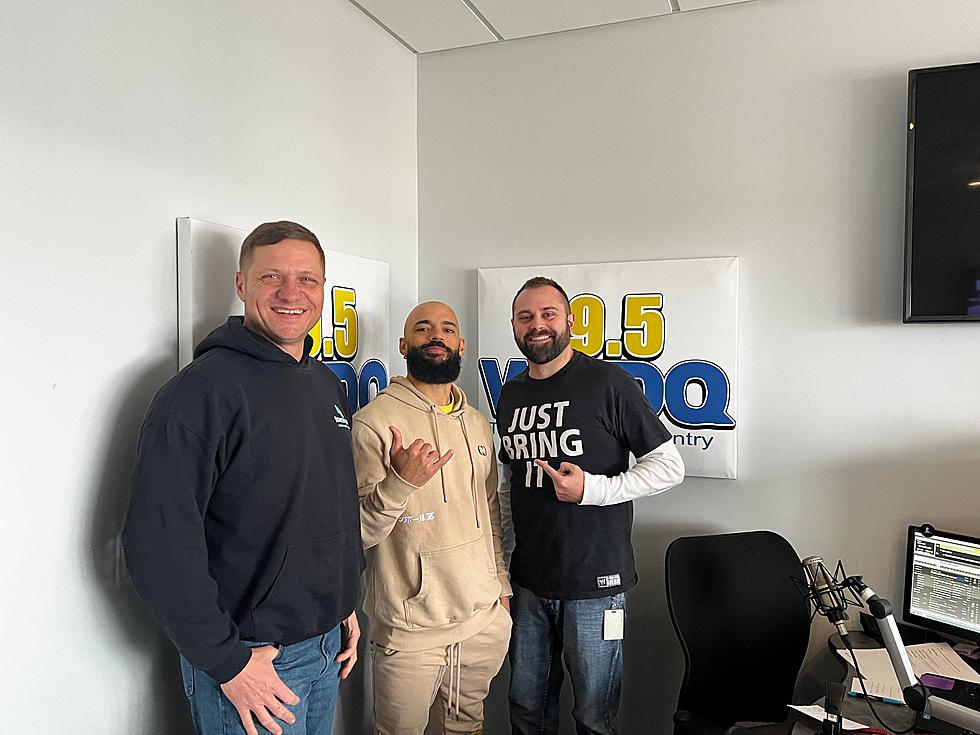 Kentucky's Own, WWE Superstar Ricochet, Talks Career and Evansville SmackDown
WKDQ
Earlier today, we were joined in the studio by WWE Superstar, Ricochet, for a very fun conversation that you have got to hear!
We are officially on the Road to WrestleMania, and before we get to the biggest WWE live events of the year, Friday Night SmackDown will be making a pit stop in Evansville. You never know what could happen on SmackDown this time of year. Major returns, the start of big rivalries, memorable moments, and more. It's truly the most exciting time of the year for WWE fans.
SmackDown is Coming to Evansville This Friday
Tonight, Friday, February 24, 2023, that's when Friday Night SmackDown will be broadcasting live on FOX from the Ford Center here in Evansville. You never know what will happen. There's a lot currently going on with the Bloodline, which has been one of the best stories that WWE has told in years. What's next for the SmackDown Women's Champion, Charlotte Flair, and her WrestleMania opponent, Rhea Ripley? More importantly, what kind of surprises and matches will be occurring in Evansville?
A few WWE Superstars advertised for Friday Night SmackDown in Evansville. They include:
Drew McIntyre
Braun Stroman
Liv Morgan
Jimmy Uso
Jey Uso
Kofi Kingston
Xavier Woods
and many more...
*Card is subject to change*
One thing we do know is that WWE Superstar, Ricochet, will be at SmackDown tonight.
The Paducah, Kentucky native joined Ryan O'Bryan and me earlier this morning on air to talk about a lot of fun things including:
His early days wrestling in the Paducah area
How he came up with the name "Ricochet"
Memories of wrestling in Evansville pre-WWE
His most memorable WWE title win
Braun Stroman
Some fun rapid-fire questions about himself and his favorite WWE moments/Superstars
and a lot more!
It was honestly, one of my favorite interviews that I have ever done in my career. So, take a listen to our chat with the "Human Highlight Reel", Ricochet!
Wrestling Matches That Could Win A Gold Medal If Professional Wresting Were An Olympic Sport
I belelive that these are some of the best matches of all time. No gimmicks, just a good old fashioned match that told a great story and left the crowd in awe of what they just witnessed.
See How Downtown Evansville Has Changed Over the Years
I find looking back on the way things used to be fascinating. Don't get me wrong, I'm glad I'm living through the current time period. The conveniences of answering any question we have in seconds, or ordering practically anything we want or need and having it delivered to our doorstep is pretty sweet. But, there is something fun about seeing how things around us have evolved. As an Evansville native, and spending quite a bit of my time in downtown Evansville (that's where the station is located), I've always appreciated the older architecture of the buildings around the area. So, I dug into the Willard Library Archives to see how a few of those areas look now compared to then. Some have changed a little, others quite a bit, and a few don't even exist any more. Take a look.