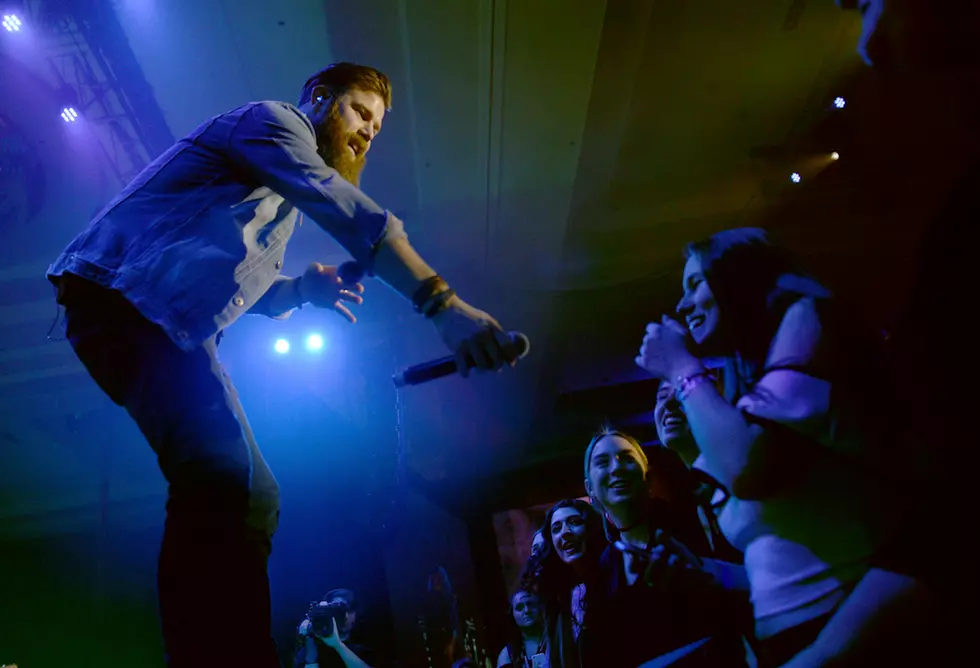 Hear New Singles from Jordan Davis, Granger Smith and More Country Artists
Jason Kempin, Getty Images
From swoon-worthy love ballads to rocking party anthems, country music has you covered this week with plenty of new releases. Read on to check 'em out!
Jordan Davis, "Take It From Me"
Jordan Davis has selected the high-energy "Take It From Me" as the latest single off of his debut album, Home State. The country love song is about being so caught up in your partner that you'd give them anything they wanted, as long as it made them happy: "Take it from me / If you want a T-shirt to sleep in / It's my favorite, but you can keep it / Looks good, baby, you should leave it / Hanging off your shoulders," Davis sings in the chorus. "Now get them bare feet dancing down the hallway / Smiling at me, running your finger down the wall / You know what I want, I got what you need / Take it from me." "Take It From Me," written by Davis, his brother Jacob Davis and Jason Gantt, will go to country radio on May 7. -- CC
Granger Smith, "You're in It"
Granger Smith's "You're in It" is feel-good and fast-paced -- and about all the good times in life, and how love makes them better. "You're in it / Every single good time / When I press rewind in my mind, yeah, I find / You're in it," Smith sings. "Every thought of what could be / All I see is you and me / In my dreams and everything / I don't know what the future holds / All I know is, girl, you're in it / Yeah, girl, you're in it." The new single appears on Smith's latest release, When The Good Guys Win, and will impact country radio on May 7. In a press release, Smith says that he wanted each of the record's tracks to be about a different moment: "moments that make you feel something down deep in your gut; moments that sound so familiar, yet bring a flavor you haven't heard from me before." -- CC
Drew Baldridge, "Gentle Man"
Drew Baldridge's new single, "Gentle Man," is swoon-worthy. In the love song, the singer talks about how he is able to run with the boys and "walk the walk" of being a tough guy -- but when it comes to love, "Then it's soft, slow / Nice and easy does it / When it comes to lovin' / You need to understand that these hands might be callous just a little / But they can hold you gentle / Baby, you / Make me a gentle man." -- CC
Shenandoah, "That's Where I Grew Up"
Shenandoah is back with the nostalgic new single, "That's Where I Grew Up." The track marks the second single to be released off of Reloaded, which is the country group's first release in 20 years. The song describes the moments in time that mark change and character development, and they don't always make for the happiest memories. "When me and her had our first big fight / I said some things, I made her cry / She packed all her stuff / The boy in me said let her go / But the man in me said pull her close / It was time to figure out which one I was," the group sings in the final verse, describing how often it's the most difficult moments that reveal a person's true character. -- CL
Radio Romance, "Weekend"
Up-and-coming act Radio Romance has released their raucous debut single, "Weekend." The group cut their teeth performing downtown in Nashville at honky tonks and bars, and the live energy translates seamlessly into the uptempo party anthem. "Forget your worries, forget your problems / Raise 'em up tonight, we ain't got one / Yesterday is where it's gone to stay / And tomorrow is a whole other day," the group sings. The song won the group last year's Nash Next title, and its release as an official first single kicks off a busy summer of performances for Radio Romance. -- CL