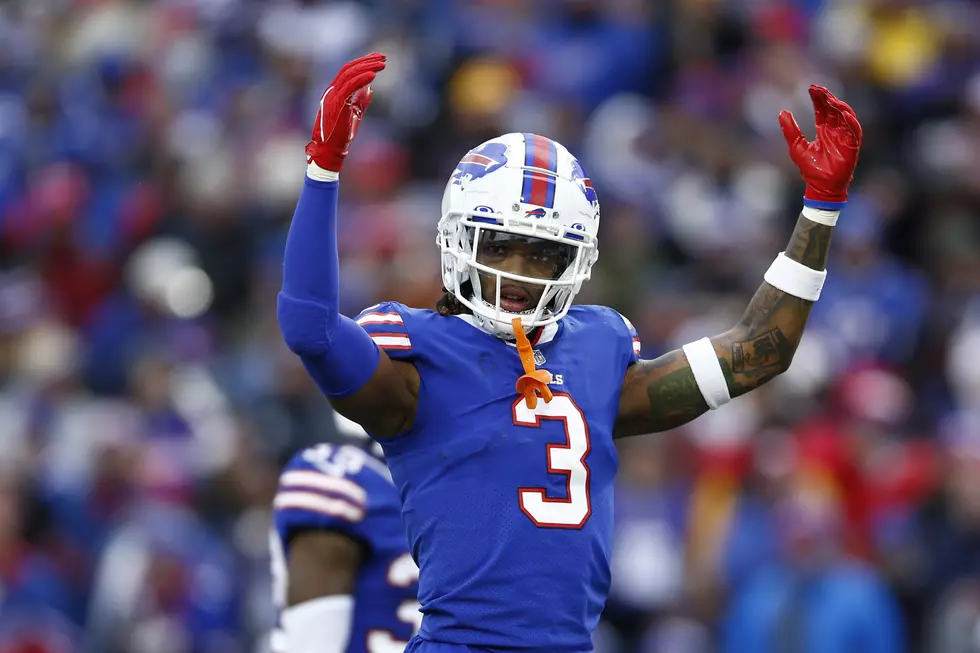 Indianapolis Colts Supporting Buffalo Bills' Safety Damar Hamlin with Special On-Field Marker
Getty Images
A seemingly routine tackle during Monday night's game between the Buffalo Bills and the Cincinnati Bengals turned the NFL world upside-down when it left Buffalo Bills safety fighting for his life. It is believed the impact of Hamlin's attempt to tackle Bengals wide receiver, Tee Higgins, caused his heart to go into cardiac arrest requiring team trainers and medical personnel to administer CPR on the field before being rushed to the University of Cincinnati where he remains in intensive care, but is making tremendous progress based on recent reports.
Indianapolis Colts Showing Support for Damar Hamlin During Final Home Game
In the wake of Hamlin's incident, NFL teams and their fans rallied around the second-year player from the University of Pittsburg in a variety of ways. Teams changed their profile pictures on Twitter to Hamlin's jersey number on a blue background, while fans and players have donated nearly 8 million dollars (as of this writing) to his charity, Chasing M's, a 501(c)(3) organization that is "dedicated to supporting the aspirations of youth and community members through sports, education, and enrichment opportunities," according to a recent statement by Damar's father, Mario, thanking everyone for their support.
The support will continue during the final games of the regular season this weekend. ESPN NFL Insider, Adam Schefter, tweeted a memo the NFL sent to teams offering them a couple of options to show their support if they choose to do so. One of which is a prepared statement that can be read by the team's PA announcer encouraging fans to participate in a moment of applause for Hamlin and his family. Another allows the teams to wear special "Love for Damar 3" t-shirts during pregame warmups, and the final option allows the teams to outline the number '3' at both 30-yard lines in either red or blue to match the Bills' team colors. While it is unknown whether or not they will participate in the first two options (although I'm assuming they will), the Indianapolis Colts revealed on Facebook Friday afternoon, they are definitely participating in the final option during their final game of the year against the Texans at Lucas Oil Stadium.
If you would like to support Hamlin's Chasing M's Foundation, visit this website to make a secure, online donation.
[Sources: Bleacher Report / Yahoo! Sports / Adam Schefter on Twitter / Indianapolis Colts on Facebook]
LOOK: These Are the Richest NFL players
To uncover the richest NFL players,
Stacker
consulted
Celebrity Net Worth
and ranked them by their 2022 net worth, calculated using a proprietary formula.
TACKLE THESE: Check Out the Best Uniforms In Each NFL Team's History