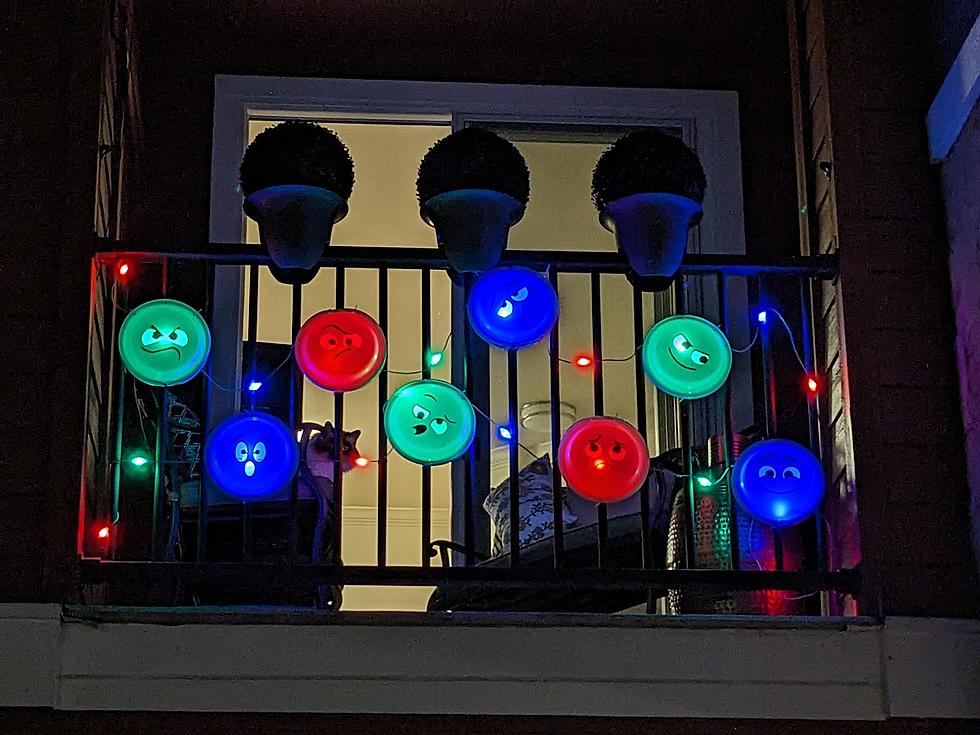 Kentucky Woman Has Created the Best DIY 'Spooky Eye' Halloween Decorations Ever
Marybeth Carrico
When Marybeth Carrico was growing up in Colorado, her mom came up with a fun way to celebrate Halloween with the kids. Judy, who's now 88-years-old and lives in Louisville, takes full credit for the genius behind these DIY decorations.  She freely admits that the idea "came from my own head."
Well, here's that idea! For years, Judy has been making what she calls 'spooky eyes' and Marybeth decided to carry on the family tradition over the weekend at her home in Seattle, Washington. For the sake of the story, we'll start with the AFTER picture, then share how the Carrico women bring the eyes to life.
Here's a great shot of the 'spooky eyes' on Marybeth's balcony!
Marybeth shared, "This was my project this weekend. My mom used to make these for us when we were small. She made them out of paper plates. And she put spooky eyes on all the furniture and windows. Happy Halloween!"
Judy's 'spooky eye' tradition goes all the way back to the 60s and 70s. In fact, Marybeth says her mom used to have a big Halloween block party every year when they lived in Colorado. She says her mom always made the eyes for them and told her children "they were the people who weren't invited to the party." Okay, that's hysterical!
Well, this year, everyone's invited to the Halloween festivities because Judy has agreed to share the secret recipe for her 'spooky eyes." Obviously, you need to start with some sturdy and durable paper/plastic plates.
And here are some handy, step-by-step (well, kinda) instructions courtesy of the crafty Carrico women.
The finished products look fun during the day, of course.
But they really come to life at night when the strand of lights that link them gets plugged in.
Judy joined us on the WBKR Morning Show to chat about the inspiration behind the plates and her tips on how to make them.
LOOK: How Halloween has changed in the past 100 years
Stacker
compiled a list of ways that Halloween has changed over the last 100 years, from how we celebrate it on the day to the costumes we wear trick-or-treating. We've included events, inventions, and trends that changed the ways that Halloween was celebrated over time. Many of these traditions were phased out over time. But just like fake blood in a carpet, every bit of Halloween's history left an impression we can see traces of today.
Gallery Credit: Brit McGinnis