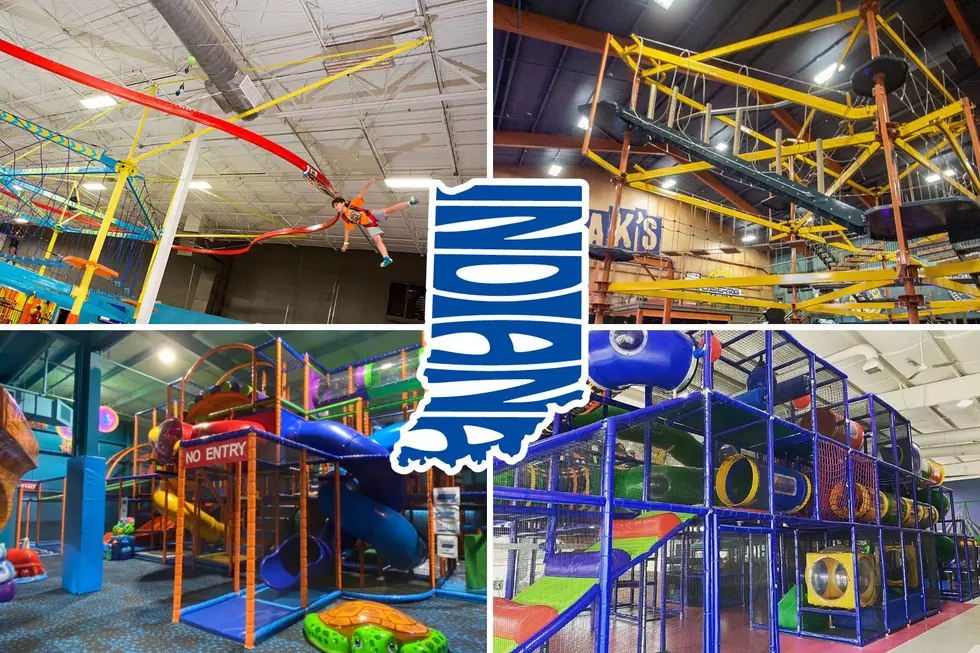 Here are Six of the Coolest Indoor Playgrounds in Indiana
Deep Blue Indoor Play Facebook/Jak's Warehouse/Escapades/Urban Air Adventure Park
Looking for fun things to do with your family this winter? I found six places within the state of Indiana that you're going to want to visit!
When it's cold outside, you have to get a little creative when it comes to doing things to keep your kids entertained without freezing your behinds off. When I was a kid, that go-to place was Discovery Zone in Evansville, Indiana. Every 90s kid loved going there.  The slides, tunnels, ball pits, and games that Discovery Zone was so much fun. It was truly one of the most memorable aspects of my childhood.
As you know, Discovery Zone went bankrupt, and it left a huge void in fun places for families. However, believe it or not, we still have quite a few indoor adventure parks within the state of Indiana that would be fun for everyone in the entire family. So, I found six of the coolest indoor playgrounds throughout the state that you might want to add to your family's bucket list.
Kid's Planet
There is a place called Kid's Planet that is located about 2 1/2 hours away from Evansville in Brownsburg, Indiana. Kid's Planet features a four-story jungle gym full of tunnels, levels, overlooks, slides, a ball pit with ball cannons, and more. Other features include a trampoline, jumbo-sized Legos, and a kinetic sandpit.
Kid's Planet
Deep Blue Indoor Play
Deep Blue Indoor Play is an underwater-themed indoor playground in Evansville will allow you, your friends, and your family to "Party, play, and climb under the sea." This two-story commercial building has nearly 20,000 square feet of slides, tunnels, climbing structures, and more.
Urban Air Adventure Park
Urban Air Adventure Park is an indoor park with attractions that cater to any level and age. From the look of things, there's something fun for everyone. Some of the attractions they have include indoor ziplining, a ropes course, climbing walls, virtual reality, tunnels, a playground, several trampoline attractions, and more attractions that I think kids and adults both would enjoy. There are locations in Bloomington, Franklin, and Noblesville in Indiana.  Each location varies in attractions that they have to offer, but overall they have the same things. It just depends on where you want to visit and if there's a special attraction at one of these locations that you want to try out.
Check Out Urban Air Adventure Park
Escapades Family Fun Center
Located in Muncie, Indiana, Escapades Family Fun Center features an arcade, toddler area, and a three-story indoor playground. This place looks like fun for not only kids but adults alike. Escapades Family Fun Center also offers a parent lounge with shiatsu massage chairs and complimentary wi-fi, so the parents can relax a bit while watching the kiddos have a blast.
Jak's Warehouse
Jak's Warehouse is located in Schererville, IN, which is up near Chicago. This place features an arcade, bumper cars, go-karts, a laser maze, the Sky Trail obstacle course, climbing structures, slides, tunnels, and more.
Indiana Indoor Playground/ Arcade Will Bring Out The Kid In You
Smiley Indoor Park
Smiley Indoor Park is a 25,000-square-foot indoor playground and virtual reality arcade located in Indianapolis. Their giant indoor playground includes a trampoline basketball court, tubes & slides, rock climbing, an obstacle course, fast raceway slides, a ball pit, and more!
Life's A Beach At This Giant Indoor Ocean Playground In Indianapolis
You don't have to travel to the coast for the family to get a taste of the ocean. There's a little piece of fun ocean paradise in Indianapolis for your kiddos to enjoy.
Here are some other cool indoor attractions that can be found not too far from Indiana.
You Can Play Cornhole Mini Golf Style In Kentucky
Check Out Louisville's Indoor Theme Park
Check Out This Massive Adventure Park in Branson
Branson, Missouri is a very popular destination for many tri-staters looking to get away. There's so much to do there, and this adventure park is a must see attraction.