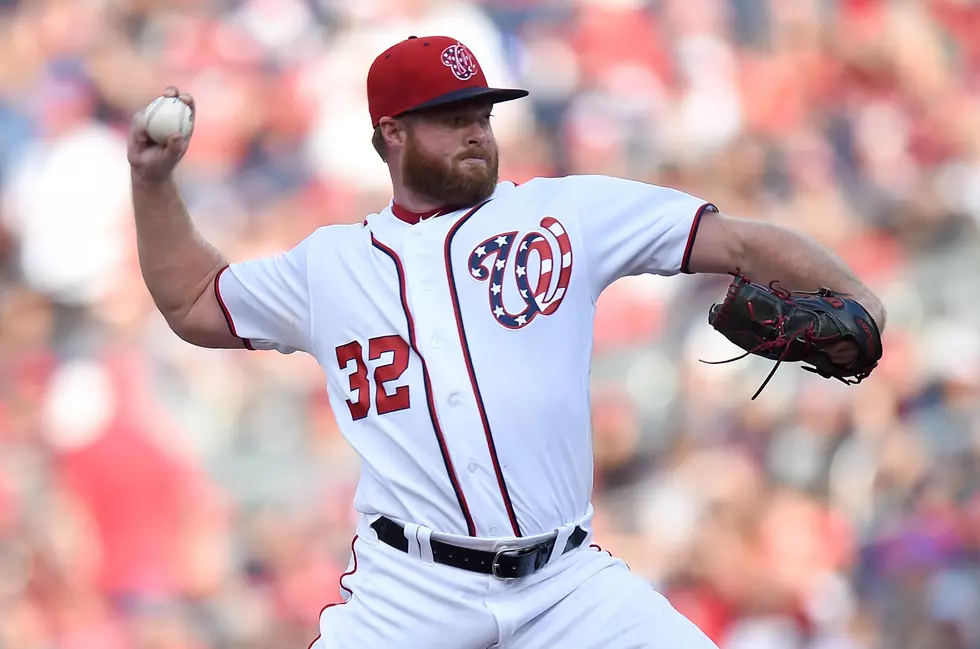 Evansville Native Wins World Series Championship with Washington Nationals
Getty Images
The Washington Nationals won the first World Series championship in the history of the franchise Wednesday night after beating the Houston Astros by the score of 6-2 in Game 7. As you can imagine, it was quite the party in the locker room after the game with players showering each other with beer and champagne while taking turns holding the iconic World Series trophy. One of the those players was pitcher Aaron Barrett, who was born and raised right here in Evansville.
The 31-year-old Central High School graduate was drafted by the team in 2010 after attending and playing for the University of Mississippi, but the road to a world championship was a long and bumpy one for Barrett that seemed at one point would come to a dead end.
Back in 2015, Barrett had to have Tommy John surgery on his elbow. If you don't know anything about a Tommy John injury, it's a tearing of the ulnar collateral ligament in the elbow. The Major League Baseball website as a far more detailed explanation on their website, but usually if a pitcher needs to have surgery to fix it, the chances of them returning to the same level of pitching are slim so many use surgery as a last resort.
Aaron ended up having the surgery in 2016, but things went from bad to worse. While rehabbing, he broke a bone in his forearm while throwing a ball.
After more rehab for the new injury, the Nationals sent him to the minor leagues to get back up to speed, and in September he got the news he had waited so long to hear, he was being called back up to the majors just in time for the team's push toward the playoffs. As you can see in this video from the Harrisburg Senators Twitter page, Aaron couldn't hold back his emotions when he got the news.
Congratulations to Aaron and the entire Nationals team on their championship! Here's a photo of Aaron enjoying the celebration, courtesy of Getty Images.